Welcome to Auctions in a Day
After more than two years Auctions In a Day are resuming! Details of our next auction are:
Saturday 11 June 2022
Otterbourne Village Hall,
Cranbourne Drive, Otterbourne,
Winchester, SO21 2ES
We're looking forward to seeing you there…
Auctions In a Day is exactly that:
Sellers deliver their lots in the morning
We lot and photograph them
Viewing at lunchtime
Auction starts at 2pm
and we are clear of the venue by 6pm
It's all done in a day.
We provide:
a cost-effective auction for both buyers and sellers
a simple process
advice on what will sell or not and estimates
free hot drinks for sellers in the morning
auctions in accessible community centres with free parking
and sell wonderful home-made cakes at great prices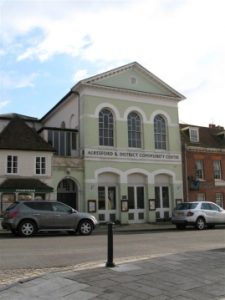 We hope you will enjoy the day and we will all have some fun. We ran our first auction in the autumn of 2003 on a Friday evening at Alresford Community Centre. Many buyers and sellers are still attending from that auction. They travel to the auction from all over Hampshire, Wiltshire, Dorset, Surrey and Sussex. This could have something to do with the tasty home-made cakes. Lots have sold from £5 to several hundred pounds.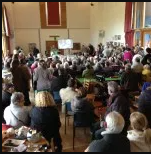 Our sales will include but are not limited to: ceramics, coins, collectables, furniture, metal-ware, militaria, musical instruments, stamps, toys, treen, paintings, vintage goods. See the auction reports for previous lots. We don't collect or deliver lots, sell: cars, houses, modern electrical items or provide insurance valuations.
2022 Auctions
Saturday 11 June, Otterbourne Village Hall, Cranbourne Drive, Otterbourne, Winchester, SO21 2ES
Latest News
Summary of the auction's Terms and Conditions
Full details on Buyers and Sellers pages
Sellers:
Deliver and list your lots between 8:30am and 9:30am Best to book a table (See tel. nos. and email at top of page) £1 per lot and 12.5% commission. Collect unsold lots at the end of the auction approx. 5:30pm
Viewing:
12:00pm to 2pm, 50p per visitor includes bid card and notes sheet
Auction:
Commences 2pm prompt The minimum bid is £3
Buyers
Pay 12.5% commission and £1 to leave an absentee bid(s) The auction rooms are normally vacated and locked by 6pm. No VAT payable. If you want to book a space, are unable to enter lots at the above times or for any other information you require, please email hamish@auctionsinaday.co.uk. We do not publish a catalog but some lots promoted with descriptions and images in a post starting a week or two before the auction.