We have a good looking set of lots for the auction on the 7th June.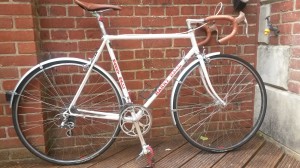 The Cycles and Frames are now a respectable collection, the highlights being:
These are joined by a range of mountain, city and hybrid bikes from Trek, Marin, Raleigh, Dawes and the mystery French road bike from the 70s or 80s. The Raleigh Gran Sport frame has an admirer in the USA!
The Cycle Parts section is littered with wheels, pedals, derailleurs, brakes, hubs, freewheels, cassettes from the likes of Campagnolo, SunTour, Shimano, Sachs Huret, Mavic, Wolber, Magistroni, Olympic, Milremo, Selle Italis, San Marco Rolls, ITM, Stronglight.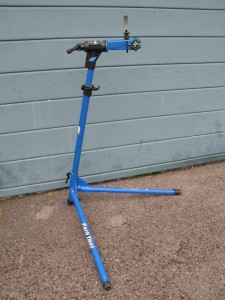 In Accessories we have a Lucas Oil Lamp, bike bag, panniers, saddle bags, locks, pumps, a Brooks B66 saddle
Tools and Books includes professional tools including a bottom bracket threader with a commission bid from Hungary already! A Park Tools Maintenance Stand has recently been added.  Plus the obligatory collection of Tour de France books.
The Cycle Clothing section has jazzed up and now includes a yellow Raleigh (race leaders?) jersey.
If you have anything to sell with just two weeks to go to the auction it is imperative that you upload your items to get the remaining exposure to potential buyers. The number of visitors to the site is ramping up every day. Yesterday was a record and so far today has exceeded yesterday.  We know at least a 1,000 have visited one page in the cycling section in the last 90 days and they are 99% from the UK and mostly from the South of England.
Buyers can now leave absentee bid. There are additional charges for this but we are prepared to ship items if you are successful. You will find a link next to each item.
We look forward to seeing you on Saturday the 7th June. Viewing starts at 11:30am and the auction is 1pm.  It will have finished by 3pm, so don't be late!
We have no idea how many of you will turn up but our catering corp will be prepared with tea, coffee, soft drinks and most importantly home made cake.  To help us please add a comment or questions below to give us some measure of the level of interest in attending the auction.