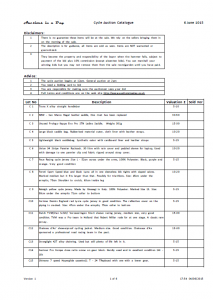 The text catalogue has been created from all the items uploaded to the web site prior to the auction. See the pages below for the images of these items.
The catalogue has the lot numbers and valuations. More lots can be uploaded to the web site and will be added to the catalogue on the day. You can also bring lots unannounced to the auction between 08:30 and 09:30 on the 6th June.
There will be no printed catalogues at the auction but there will be a large display board with all the lots on.
PLEASE DOWNLOAD (the current) FINAL CATALOGUE as a PDF file.
Revision History:
4-06-2015 20:44 1.01 – Completed the valuations and minor text corrections.