Is there an auction on the horizon? If you haven't seen it yet, maybe you should come along and bid on one of these two vintage telescopes. They will be included in our next auction on Saturday 4th November.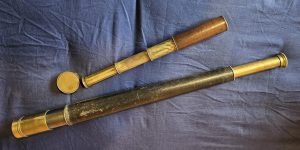 The auction is going to be held at Badger Farm Community Centre in Winchester. The full address is:
Badger Farm Community Centre
Sainsbury's Car Park,
Badger Farm,
Winchester,
Hampshire SO22 4QB
We've still got plenty of room for sellers so if you want to reserve some space please get in touch at bookings@auctionsinaday.co.uk.
We sell all sorts of items at our auctions, from vintage collectibles to household objects, furniture and upcycles items. We also provide a lovely range of homemade cakes on the day.
The full details are:
Sellers: 09:30 – 10:30pm to drop off items
Viewing: 12:30pm
Auction starts: 2pm
If you haven't sold with us before get in touch via email or call on 07936 874 382.
Look forward to seeing you there.