Specialist Cycle Auction
---
Please note: We don't have any cycle auctions arranged at the moment but our next General Auction is scheduled for Saturday 3rd February 2024 at Weeke Community Centre. To book lots please contact bookings@auctionsinaday.co.uk
---
It's at a new location Cheriton Recreation Ground, half a mile off the A272 between Winchester and West Meon, about three miles due south of New Alresford. There is a large grassy area aka cricket field for the cycle jumble and auction viewing. There is ample free off road parking on a hard surface. In the small pavilion there is space for a few indoor sellers and we will be serving at least home made cake and refreshments. The renowned Flower Pots Inn is opposite the venue. They brew their own beer and serve substantial rustic lunches. Lots of great cycling in this area and there is the Watercress Line (steam railway) in New Alresford.
There will be a CYCLE JUMBLE run by Alresford Mobile Cycle Repairs starting at 09:00. The organiser bears a striking resemblance to the auctioneer at the cycle auctions! Please click the link for more information.
The auction basics are:
Deliver lots 08:00. Viewing from 10:30. Auction starts at 12:00.
Sellers: £2 lotting fee, 10% commission, please discuss reserves with the auctioneer.
Buyers: 15% commission
Please email cycles@auctionsinaday.co.uk with any questions.
Do you, a relative or friend have an old bicycle or a box of parts stashed away in a garage or shed? Depending on brand, age, frame material, the fittings and of course the condition, they can be worth a few pounds up to hundreds of pounds.  People buy them to ride as is, restore to original condition or renovate them as "fixies" (single gear bikes) or just to get the parts for an existing restoration project. Of course you may have a bike you no longer need after upgrading to the latest and greatest. Please try and sell it at our auction.
You can see the cycles that have been listed so far for the 2019 auction on the following page:
Look at the Cycle Auction Archive to see what was for sale in June & September 2014, June & September 2015, June 2017 and at the Cycle Auction Reports for June 2014, September 2014, June 2015, September 2015 and June 2016 to see the star cycles and what they sold for.
TIMETABLE
NOW:
Sellers: Please email images and description to the organiser. These will be added to the appropriate section pages.

Listing you cycle or other items on the web site will greatly improve your chance of getting a higher price for the item. Bringing it on the on the morning of the sale without describing it on the web site is possible but not recommended.
TBC 17th July – Provisional text only catalogue can be downloaded.
19th July – Please download the 20-07-19 Cycle Auction Catalogue. This may be amended on the day. At previous auctions 20-30 bikes have been delivered for sale that do not appear in the catalogue.
20th July – AUCTION

08:00 – 09:00 : Sellers bring their lots to the field and enter them on to our lotting sheets

Please drive up to the event entrance, drop off your bikes and return the car to the car park unless you are also selling at the jumble.

09:00 – 10:30 : We organise and lot up the items
10:30 : Viewing.
12:00 : Auction.
12:15 – 14:00 :
Buyers – Please pay for your lots and collect.
Sellers – Please collect your cash and collect unsold lots
15:00 : The hall and field will be empty!
CYCLING REGULATIONS
Our slightly modified auction terms and conditions will apply. In summary they are:
£2 fee per lot entered (May include multiple items in one lot)
15% buyers and 10% sellers commission
Sellers are paid at the end of the sale in cash providing the buyer has paid.
No reserves less than £20
Photos and descriptions of items for sale can be added to the category pages by sellers. These are subject to approval.
We can catalogue and photograph your items for a 20% commission within a reasonable travelling distance.
What sort of items would we like to see at the auction?  Vintage bicycles and parts, 60s, 70s, 80s and maybe later bikes.  Classic brands: Raleigh, Dawes, Holdsworth, Hetchins, Carlton, Bianchi, Peugeot. Parts from: Shimano, Campagnolo, Brooks, Cinelli. Frames made of 531, Columbus Steel and other lightweight steels. We expect 50-100 lots for sale.
Why sell at our auction?
Sold as seen. It's the buyer responsibility to inspect before bidding.  No need for detailed descriptions and photographs. The buyer cannot return the item.
Low commission. 10-15% versus 20% plus VAT at many commercial auctions.
This page and the photos of lots page will be up for two months before the auction. We are currently in the top three of search results for "cycle auction".
We will list the auction here Bike Jumbles, Cycle Jumbles and Campyoldy where you will find listings further north than those below. We will be on Facebook groups (e.g. Bicycle Cafe), Bulletin Boards (e.g. London Fixed Gear and Single Speed) and anywhere else we can find. Your suggestions are welcome.
We are also advertising locally: village shops, pubs and our own cycle hoardings which are moving around the Winchester district.
Items Sold at Previous Auctions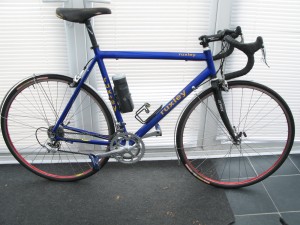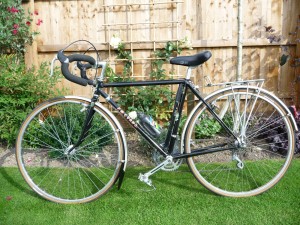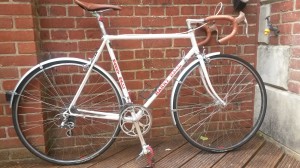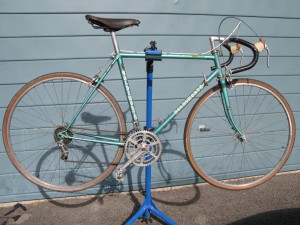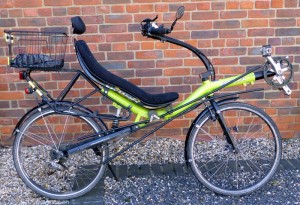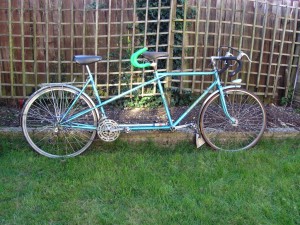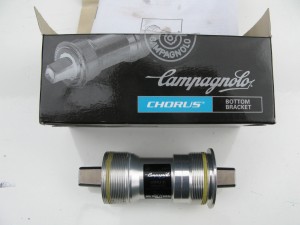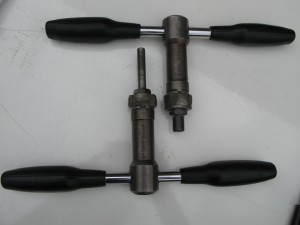 The items pictured on this page were sold at our 2014 auctions. You can see the items that have been listed so far on the following page: