Another busy auction at Badger Farm Community Centre. We had 365 lots to sell.  Giving us time to sell the items at about 120 lots per hour.  The result was a higher percentage of sold items and the average value went up as well.  This benefited our sellers, who are the principal clients of the auction.
How did we do that?  We were more rigourous with the "No sale" lots.  They were negotiated away before being listed and after listing. We realise there were still more that should have been persuaded not to sell e.g. the two cricket balls!  Long periods of no sales in the auction does nothing for anyone.
Thank you for bringing the better lots and the co-operation from our sellers.
We realise some bidders are feeling left out at moments in the auction. This is partly due to the seating layout, which gives the auctioneer a wide area to cover and therefore lots of head turning. At the next auction here we will try placing the auctioneers rostrum at the far end of the hall with the seats in a narrower and deeper format. Who knows what it will do to the acoustics! Next job after writing this report is to sketch the layout.
As ever the cakes were great. Thank you to everyone who baked them.
Our next auction is at Itchen Abbas on the 4th May. We look forward to seeing you again.
Here are six items from the auction. Please click the image to see a larger version in a new window.
Lot 175 – Garnet Brooch, Earings and Ring sold for £73
Each item was set with a large number of garnets.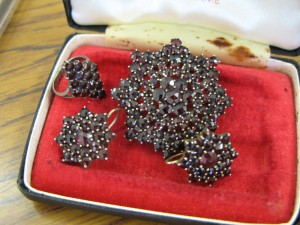 Lot 347 – Engineers Chest and Tools sold for £60
Routers, drills, files, clamps and many other types of metal workers or tool makers tools.