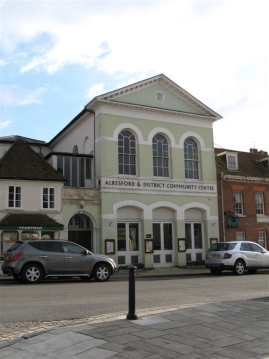 The summer break is over. We are back for our 10th anniversary auction.  Were you there, upstairs in the Alresford Community Centre in 2003?  I was wandering up West Street vaguely aware my brother in law's friend and occasionally fellow cricketer John, Clare and their friends were running an auction.  The queue to get into view was pouring out of the building and down towards the Swan.  Hmm! I thought perhaps they need some help.  I jostled my way to the top of stairs and said "Would you like some help?" They had no alternative but to say "Yes".
Lord Luke of Salisbury Cattle Market was auctioneer for many years as we operated as Alresford Auctions.  On the first night although I only worked as the lowest of the low, the sheet runner (subsequenty performed only by children feed on cake and coke), I had aspirations to be the auctioneer.  Luke did a grand job entertaining us and selling the impossible.  Then one day, we changed the day of the auction to Saturdays. His continued participation would have precluded him from getting the full value for his Chelsea season ticket.
Following Luke's free transfer, we took over the auctioneer's role and went on a nomadic auction about in nearby Hampshire towns.  We set up our room in Alton, Petersfield and the town centre of Winchester.  The first floor auction room, no real parking outside and the kebab van, made you, make it clear to us, that the Alresford Community Centre although vintage, was not a great spot.  Itchen Abbas Village Hall and Badger Farm Community Centre became the favoured places.
Over the years many lots went for a pound.  There were specialists in these lots! Nothing for less than a fiver now. We had some little surprises: a paperweight, a mosaic, a group of swords, a beret. But mostly we have enjoyed interacting with you, having a great day away from the day job, buying and selling, eating cake and thinking auction setting up and knocking down has an equal calorific value, losing: lots, people, lot numbers, sheets, etc.  What can you remember?
We are ready for the next auction (must print out the lot numbers). We already have many bookings and we look forward to seeing you again.  Please share your memories of our auction over the decade in the comments below.
Tips for the next auction.  Questions not to ask us:
What happened about the visas?
How was the mushroom?
Did you score any?
How has the value in the vintage china market grown in the last year?
How will you deal with friends and partners bidding together (almost) simultaneously?