One of our busiest auctions of late with 500 plus lots for sale between 2pm and 5pm. There was a great range of gold, silver and costume jewellery; paintings, prints, Ferrari caps, furniture, model cars and trains, cameras and lenses, ammo boxes!, cast iron bench ends, Disney and cartoon characters, books , musical instruments, bowls, vases, plates, ceramics, trunks, cut and coloured glass, books, military compass and badges, handbags and many more items. Thank you for bringing and buying them.
Here are the best bits.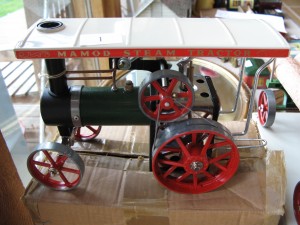 Lot 1 – A Mamod Steam Tractor in excellent condition got us off to sizzling start selling for £40.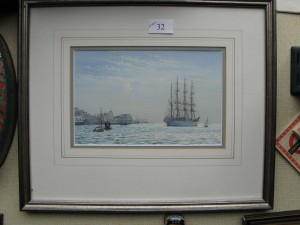 Lot 70 a water colour of a tall ship in the entrance to Portsmouth Harbour painted by Colin M Baxter was spotted by several bidders and sold for £70.
---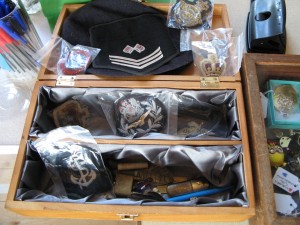 Lot 81 – A box of military badges and other items blew the bidding up to £60.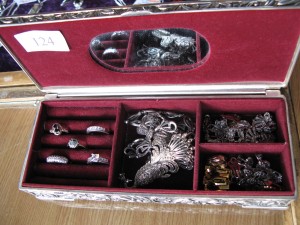 Lot 124 – There was something(s) in this box of costume jewellery which caught people's eye. It sold for £40.
---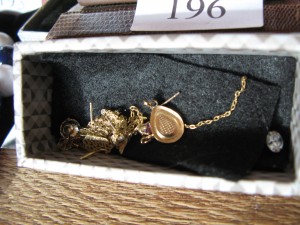 Lot 196 Just a little box of "gold" bits sold for £30.
Lot 279 – This bright, bold and big copper coal scuttle could be seen from anywhere in the auction room. The lucky bidder and polisher to be bought it for £45.
---
And there were so many lots we ran out of time to photograph the last hundred. We had 50ish a, b, c, etc lots earlier on.
Lot 442 – Set of 6 Waterford glass tumblers sold for £50
Lot 460 – Silver plated canteen of cutlery – Kings pattern sold for £40