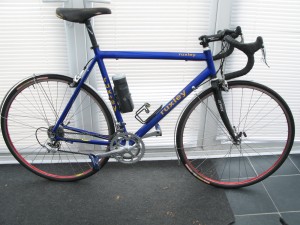 Please download the Final Catalogue as a PDF. There was a flurry of bikes in the last few days so rather than changing lot numbers for the parts, accessories etc. you will find 49a, 49b, 49c etc. The lot numbers are also preceded by a "C" to differentiate them from the General Auction at 2pm. Still subject to change on the day but the lot numbers are fixed and therefore the order of the auction.
There are at two more possible bikes in the pipeline: a titanium frame mountain bike and a Trek road bike with aluminium frame and carbon forks. They have a brief entry in the catalogue. Photos may appear on the web site before the auction.
The weather forecast changes all the time. We do have a wet weather contingency plan but we will not able to provide a covered area for all the bikes (they are designed to get wet). Please come prepared for walking around an open garden in the rain. The tea room will be open from the start of viewing.
Please park in front of the Village Hall or in the parking at the next level up opposite the industrial units. Please do not park on their forecourts. Parking at the adjacent closed Trout Inn has not been issue according to local sources.
The cycle auction desk will be in the right hand side of the village hall looking from the car park.
We look forward to seeing you on Saturday the 7th June. Viewing starts at 11:30am and the auction is at 1pm.  It will have finished by 3pm, so don't be late!