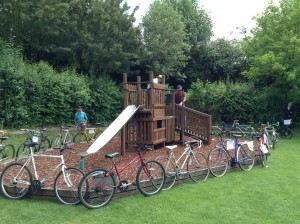 Well it started with a thunderstorm when we were trying to set things up in the garden. As you can imagine this threw the preparations a little so we put up a gazebo to keep the bikes dry. It turned into a sun shade for the buyers and sellers 🙂 . Although most lots had been pre-registered on the web site, cycles continued to turn up throughout the morning, a welcome distraction.
The most important thing about the day from our point of view was: Would people turn up to bid? It was big unknown for us, so we were very pleased to see about 100 of you 🙂 . The skies cleared and the atmosphere grew throughout the morning. The feedback we received was that people enjoyed themselves and were asking when the next one would be (maybe September, watch this space). I understood you even enjoyed the home cakes, sausage rolls and samosas because the tea bar sold twice as much as usual.
As mentioned before, the thunderstorm distracted and delayed preparations. The result was the cash desk was a tad chaotic, for which we apologise. We didn't act on our own plan 🙁 . But everyone has paid / been paid and all the bills were settled.
What about the lot? Pictured below are the top six bikes. We would have had 53 bikes to sell but 4 failed to turn up i.e. we had 49 to sell. They were presold by the owners not via this web site and I failed to complete a rebuild 🙁 . 9 bikes sold for £100 or over. 8 bikes were added to the catalogue on the morning of the auction and 14 bikes didn't sell due to reserves or interest.
There was also a wide range of parts, clothing and accessories. The star lots were a Park Tools maintenance stand selling for £65, a Cyclus Bottom Bracket thread cleaning tool for £40 and a pair of Mavic Open Pro rims sold for £30.
Thank you to both groups: the sellers for bring their lots to the auction, particularly the Lindsay's and the buyers for turning up and buying. Apart from the cash desk chaos (thanks John and Claire from the general auction for jumping in) the novice porters did a great job at lifting bikes of a variety of weights.
If you have any comments please add them to the bottom of this post. I heard second hand that the frequent question was "When is the next one?" I was thinking next year but the pressure is building for September at Itchen Abbas. Watch this space.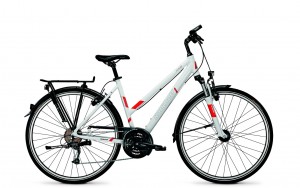 ---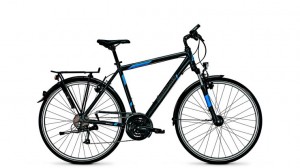 ---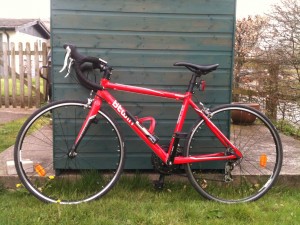 TREK 1000 Road Bike, 56 cm aluminium frame carbon forks
(Sorry no picture it arrived on the morning of the auction)
Sold for £150
---