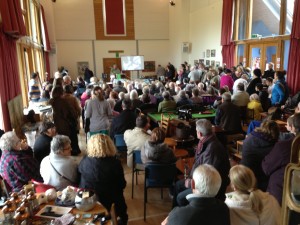 The auction room soon filled with lots and we had to turn some unbooked sellers away. We are comfortable with 400 lots but we lotted 460 plus today.
Thank you to those that arrived early or on time for the viewing session at 12:30 and sat quietly while we completed the lotting and photography. Just a few mistakes in that process to keep you amused and give us a few frantic moments. Photographing all the lots enables us to speed up the auction.
Bob started the auction at 2pm and rattled through 240 lots in 75 minutes! Andrew completed the remaining 220 lots at a slightly more relaxed pace and the auction finished at 4:30pm. There were almost no lots left behind by buyers or sellers, thank you. Eveything was cleared out of the village hall and we were in the Trout by 5:45pm, a record!
Great to see Pat back selling and buying.
We raised the minimum bid to £5 at this auction. It makes it easier at the cash desk to do the sums! We will have to be more ruthless next time rejecting lots, we know won't sell for £5. As auctioneers, we don't enjoy trying to sell lots which you won't buy. We would prefer to spend more time selling the lots which you do value.
As always the cake provided the stable high quality element for the day.
Here are some of those star lots that sold for £100 plus.