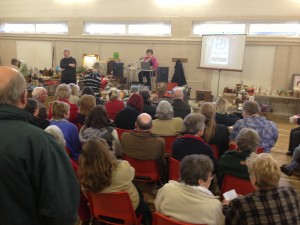 SHOCK ONE: the sun has been out all weekend and the long-term weather forecast says it will be the same next Saturday for our auction. Don't go to the beach. Don't go to the New Forest. Come to our auction and perhaps you will be able to pop to Sainsburys at 5pm and buy the food and drink for your barbecue with the proceeds of your sales. Or if you were buying, you can still have a barbecue and talk about what you bought, what you wished you had bid a little more for, the bid you missed or the lot you couldn't understand why it went for that! I am sure you will have a great day. We will make sure to cool drinks as well as the tea to go with the cakes.
SHOCK TWO: Claire has already booked the dates for 2014! And July is back. We couldn't come up with a good excuse not have a July auction when we met last weekend. The dates were actually booked in January and it's too late now to get a venue for this July. 🙁 See 2014 Calendar.
We hope you come on Saturday and mark those dates in your diary for next year please. Are diaries on sale for 2014?