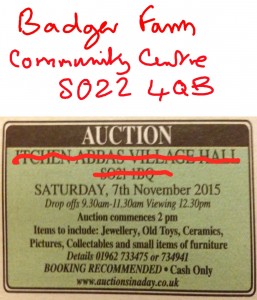 You may have noticed the error in the Hampshire Chronicle advert for tomorrow's auction. It is at Badger Farm Community Centre.
Our apologies in advance if you go to Itchen Abbas on Saturday. There will be big sign up there.
We will be at Itchen Abbas Village Hall on the Saturday 5th December.
The auction tomorrow is almost full. Valuable lots can still get a spot of course. You can see some of the lots which will be there tomorrow on the page.
p.s. The member of our staff who admits to this error will not be there tomorrow. We hope he is going to the right place, on the right day, for his prior engagement.